2022 Regatta Programme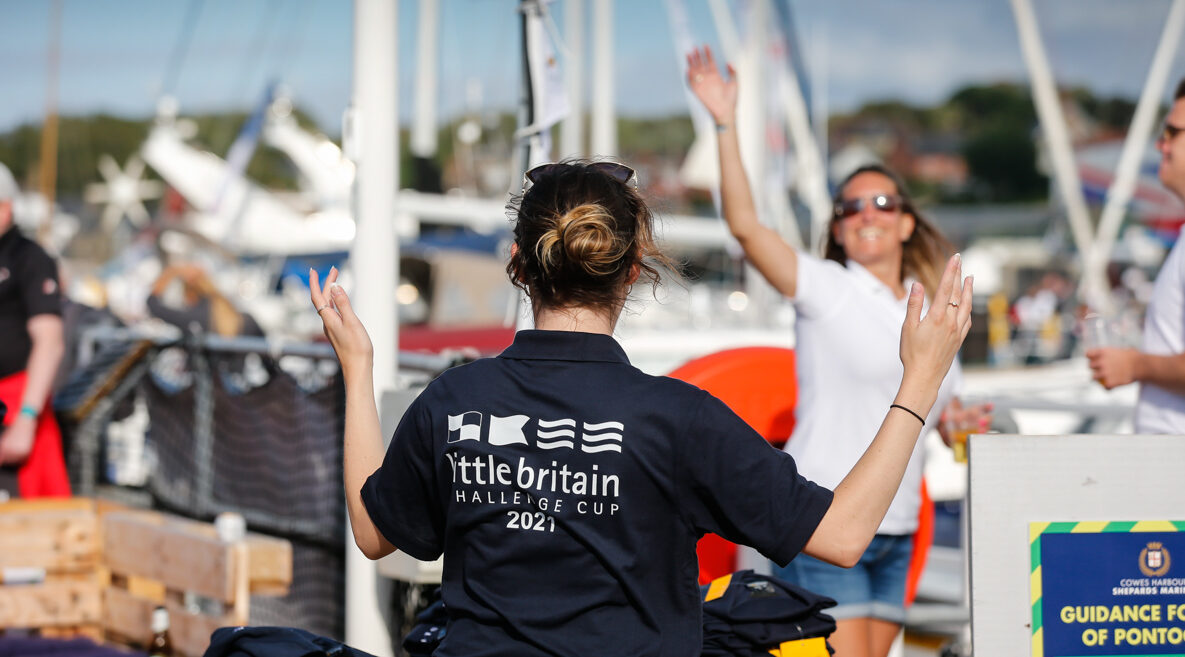 2022 REGATTA PROGRAMME
All times provided are provisional and will be confirmed nearer the event.
---
THURSDAY 8th SEPTEMBER 2022/ PRE-REGATTA DAY
From 1600h – Berths at Shepards Wharf Marina are available for Little Britain boats.
Berthing costs are included in the LBCC entry fee.
[changed to] From 1800h – 2000h, register early with the LB Regatta Team at the Island Sailing Club, 70 High St.
Collect your registration pack early.
Pubs on route to the Island Sailing Club are: the Duke of York, the Anchor, the Fountain Inn & the Pier View.
If you are in the Union Inn, you have gone too far, again !
The Island Sailing club warmly welcomes Little Britain crews to their bar and restaurant.
You are invited to book a table for supper in advance directly with ISC.
The views from the clubhouse and balcony are fabulous.
All crews to make own arrangements for crew suppers on Thursday and Friday evenings.
NB- Thursday practice races will not be organised.


---

FRIDAY  9th SEPTEMBER 2022
DAY ONE
REGATTA OPENS
08:00 Regatta office opens for registration.
The Regatta office is located in the marina. Location TBA
Register your arrival before taking part and collect your registration pack which includes
bow stickers, race chart, entry-pass wristbands, and regatta flag.  Early registration is available on Thursday pm.
[Revised] Bow stickers wont be provide this year due to sustainability/ Eco reason.  Single use plastic, littering, and waste.  Boats will be identified by their sail numbers.
[New] A LBCC regatta pennant [45cm long]  will be provided at registration and must be flown on the back stay, or other to identify your participation in the racing.
0900h Skippers' briefing by the Principal Race Officer of the Island Sailing Club
and Rob Klaschka, LBCC Race Director.  Briefing location TBA
1055h Race 1 first warning signal for racing AND cruising classes.
Start sequence TBA
Race 2 to start as soon as possible after Race 1.  Lunch onboard.
Onshore teams are invited to use the Island Sailing Club facilities during the day. There is an excellent viewing platform. Regatta Entry passes [LBCC wrist bands] will allow you in.
After Racing.
1600h Introductory pontoon crew party. A big thank you to our dark n stormy
official drinks sponsors Gunner & Northpoint Rum.
Races 1 & 2 results will be published on the LB website
Informal drinks at the Anchor pub.
Meet at the Island Sailing Club for crew welcome drinks, bar and food on the ground floor hard-standing downstairs
All crews and entries are invited to make their own supper arrangements for Friday evening.
There is a live band at the Anchor till late.


---

SATURDAY 10TH
REGATTA DAY TWO
0730h Regatta office opens.
0800h Skippers' briefing by the Principal Race Officer of the Island Sailing Club
and Rob Klaschka, LBCC Race Director.  Location TBA
0925h First warning signal for race 3.
Race 4 to start as soon as possible after previous. Crews to lunch on board.
Race 5 to start as soon as possible after race 4.
After racing
1600h Networking Pontoon Party
– supported by official drinks sponsor Gunner & Northpoint Rum.
1830h Welcome drinks at Royal Ocean Racing Club.
1900h Trophy presentations of the Little Britain Challenge Cup winner and class winners,
plus winners announced for races 3, 4, & 5.
1930 – 2130h  Saturday crew BBQ feast £25 each at the Royal Ocean Racing Club.
BBQ Tickets available directly from RORC.  Details below.
Dress code: Informal. Last servings 21:15
2130h Music and DJ
0030h Bar closes.


---
SUNDAY 11TH
All crews requested to depart from marina before 12noon, or book and extend your stay with the marina office.

---

Times are approximate and may be subject to change.
---
Saturday BBQ Supper at RORC Tickets £25 each
call or email 01983 293581 or email cowes@rorc.org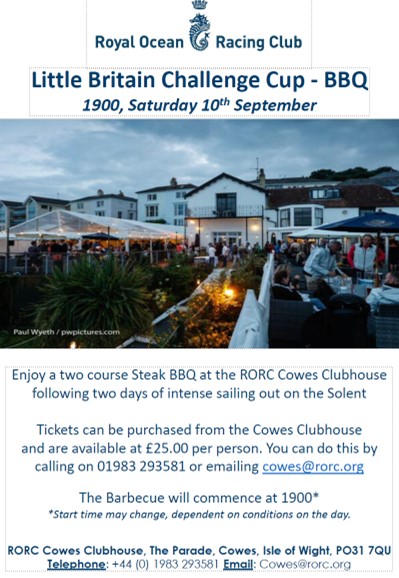 and to AVOID THE CLASSIC BAR QUEUES.
Book your drinks early, see pdf link
Little Britain Challenge Cup – Drinks Packages RORC