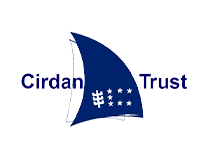 The work of Cirdan has been supported through the Little Britain Challenge Cup event since 2001.  During this time the generosity of the companies and individuals who take part in the event have helped more than 2,000 youths and  experience life at sea. 
Cirdan helps young people who face disadvantage in their lives to benefit from character building education and personal development through the challenge and discipline of life at sea aboard large sailing vessels.  The experience of life at sea increases self-confidence and esteem, promotes motivation, encourages team work and builds resilience.
Support from the LBCC event has enabled a special needs academy in the Midlands to sail on a number of occasions.  On one particular voyage, 9 students had autism and 3 had learning difficulties, one also had cerebral palsy whilst three had complex emotional difficulties.
Amanda Cameron, Vice Principal said,  "Thanks to the amazing work of the crew and the challenges presented by the voyage, the students had a fantastic week and didn't want to go home.  Their confidence grew so much in the space of a week!
The impact on their attitude has been substantial and lasting.  Their school attendance has improved and they now put themselves forward for everything that's offered.  Their parents are absolutely amazed and delighted with the changes and their personal achievements".
All at Cirdan are very grateful to the LBCC for their continued support of our work and would like to thank all those involved.
To find out more about the brilliant Cirdan Sailing Trust click here