Ellen MacArthur Cancer Trust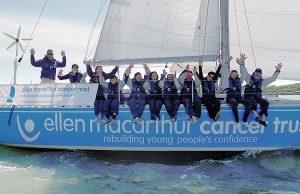 The Ellen MacArthur Cancer Trust works with young people aged between 8 and 24 who are recovering from cancer.  Through our sailing trips, we aim to rebuild self-confidence, vital to the young persons' long term recovery and full engagement with future life.
The atmosphere created by living onboard a boat has an incredibly positive effect on the young people, concentrating very much on what they can achieve rather than what they cannot. The environment presents a unique opportunity to share experiences with other young people, re-assess personal barriers, rebuild personal confidence, learn new skills and re-engage with life. The trips enable a huge step forward in regaining the independence lost during long periods of hospitalisation and the outcome is a tacit permission to be well.

After a warm welcome and safety briefing the young people take part in team-building games. Later that evening after a dinner of fish and chips, the young people then spend time on the boats, playing cards before their first night onboard. The young people are encouraged to be an active part of the crew – helming the yacht, pulling sails up and down, cooking crew meals, washing up and every other aspect of running the boat. These activities help build confidence in the young people along with improved physical and mental wellbeing.
As well as sailing, shore activities are organised in the evenings – with the emphasis throughout on having fun. BBQs, crabbing, water fights, a thrilling fast RIB ride, fishing, football, afternoon tea at the Yacht Club, a tour around a lifeboat and the surprise appearance of an ice cream van all add to the experience and help to make it a truly memorable trip.
Continued Support
Initially, the young people are invited to a four-day sailing trip, the following year we invite them back on one of our Return To Sail activities; this could be a residential activity week such as Water Park or Bradwell, East coast Cruising trip or Round The Island Yacht Race. Following that, the young people can become a Graduate Volunteer, this involves a training week where young people work through the RYA Competent Crew course and learn what it means to be a great Trust volunteer. Many young people also volunteer at various fundraising activities as a way of keeping in touch with the Trust community.
Our three year plan
Last year, we announced a three-year plan to double the number of young people we work with from 353 in 2013 to 780 in 2016. We are now one year into this plan, this year we achieved a growth of 23% in the number of young people we took sailing, we are firmly on track to meet this target.
We recently opened our base in Largs, on the west coast of Scotland. This year, the Scottish base was key to our increase in the number of young people we took sailing. Another aim of our three year plan is to maintain the quality, intimacy and community of our trips. To ensure this happens, this year, we appointed ex young person Claire Amaladoss as a Trustee. Claire's unique perspective, having previously sailed with the Trust will help us develop our understanding of how to achieve the best outcomes for our young people.
Currently we only work with a fraction of the young people we could potentially support. By 2016 we aim to work with 14.2% of all young people in the UK in recovery from caner. We still have two years left of our three year plan but we are well on the way to achieving our goal.
For more information about the Ellen MacArthur Cancer Trust please visit www.ellenmacarthurcancertrust.org.